Olympian Luke Patience, and Mary Henderson (470) stole the show on the opening day of the Investec-sponsored Endeavour Trophy, with three wins in the bag writes Sue Pelling.
Light winds and a strong tidal stream resulted in challenging conditions for the 30-strong fleet of champion sailors but Luke Patience – Tokyo 2020 Team GBR sailor, and Olympic silver medallist – and Mary Henderson took control of the event, managing to hold off closest rivals Christian Birrell and Sam Brearey (Merlin Rocket) in the first two races. They won the second race of the day by one minute 49 seconds.
Another impressive performance was noted in race three, in arguably the most challenging conditions of the day, when Sam and Ben Whaley (Laser) led the race and managed to hold off James Peters and Maddy Anderson (RS200) in a close race to the finish line.
Patience and Henderson were back on form again in race 4, in what turned out to be the final race of the day in slightly more favourable conditions on a course set on the River Roach. However, they certainly didn't have it all their own way.
Serial Endeavour Trophy winner Nick Craig, sailing with Emma Clarke (B14) executed one of the best starts of the day at the committee boat end of the line and managed to sneak inshore out the tide. Patience and Henderson, Ben Saxton and Toby Lewis (Returning Endeavour champions), and Cliff and Bec Milliner (Supernova) enjoyed a fantastic short-tacking battle up the first beat.
At the close of play after an exciting finale it was Patience and Henderson who used their light wind expertise once again to snatch victory from Craig and Clark as they crossed the line. Saxton and Lewis took third and the Milliners followed closely in fourth.
As they sailed ashore this afternoon, Patience and Henderson were clearly delighted with their performance and said they particularly enjoyed the final race. Patience said: "We had a fantastic race with Nick [Craig] in that one. I have to say we are lighter so we are at an advantage. Tomorrow with a bit of breeze, he'll be back for sure.
"In this sort of competition you take what you get at the time. The key thing is to win when it is your conditions; it's a crime if you don't. We knew we had to win races today because it is likely it will be full-on with more wind tomorrow. And I am sure the bigger guys will be rapid, so we are just pleased to have done well when we had the opportunity."
Talking about their game plan tomorrow, Patience added: "We aim to sail smooth and steady and, if there is wind, we aim to keep the 'stick in the sky'."
Craig commenting on his performance today said: "Light winds are not our conditions really so we were pleased we did so well in the final race. Not so good in the others because we just made some wrong decisions."
Talking about the level of competition, Craig added: "It is unbelievable this year. Having three or four Olympians here is amazing. I wish we could do this every weekend, it is fantastic."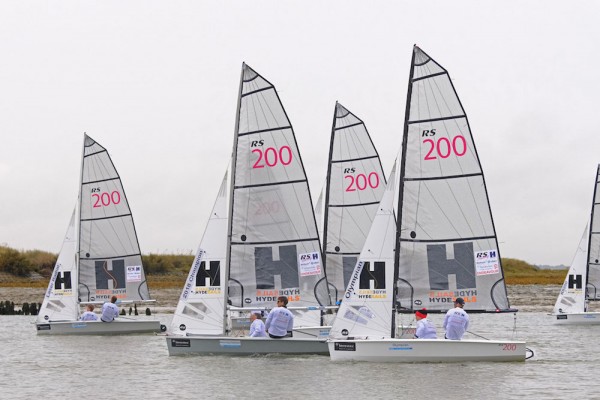 At the halfway stage of the series just three points separate the top three boats, which means there is everything to play for in the final four races. Patience and Henderson with three wins clearly have the advantage but with more wind expected tomorrow and a host of premier league, adrenalin-fuelled sailors ready to do battle to secure victory at the 59th Endeavour Trophy, there'll be no shortage of exciting competition.
In the meantime this evening, competitors are enjoying the full Endeavour experience at the annual dinner at the Royal Corinthian Yacht Club where the solid silver Endeavour Trophy is on display.
Results (after four races with discard yet to come into effect)
1st Luke Patience and Mary Henderson (Olympian) 17pts
2nd Christian Birrell and Sam Brearey (Merlin Rocket) 18pts
3rd Ben Saxton and Toby Lewis (2018 Champion) 19pts
4th James Peters and Maddy Anderson (RS200) 22pts
5th Sam and Ben Whaley (Laser) 23pts
6th Ian Dobson and Matt Mee (Fireball) 23pts