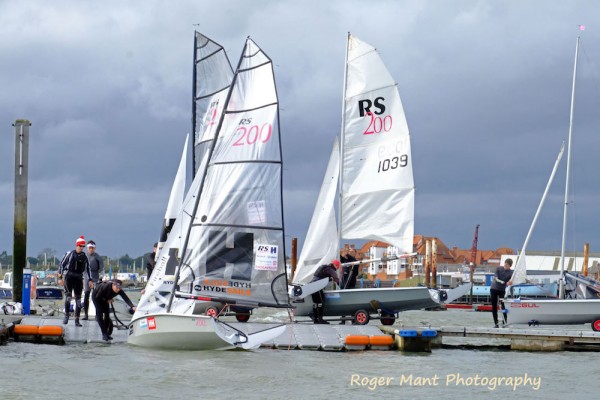 So popular is this weekend's Investec-sponsored Endeavour Trophy (11-13 October), there is now a waiting list to take part writes Sue Pelling.
Despite the doom and gloom of the weather forecast threatening to put a damper on the 59th Endeavour Trophy at Burnham-on-Crouch, there are still a few hopeful competitors ready to step in at the last minute. Included on the waiting list, should a place in the 30-strong fleet become available, is Stuart Bithell former Endeavour champion, 2012 Olympic silver medallist, and Tokyo 2020 Team GBR 49er crew.
Fellow Tokyo 2020 Team GBR sailor, and Olympic silver medallist Luke Patience (470) is among the other champions signed up and ready to do battle in this weekend's intensely competitive, and challenging eight-race, one discard, series in RS200s.
One of the biggest challenges the fleet faces this weekend is to break Ben Saxton/Toby Lewis' recent domination of the event. Saxton and Lewis have won the last four events in a row (five overall) and if they succeed again this year they will match the overall record number of Endeavour Trophy wins – currently held by Nick Craig with six wins to his name.
Craig (B14) will also be on the startline tomorrow, with former Endeavour-winning crew Emma Clarke calling the shots at the front, so the stage is well and truly set for some top-class racing. Craig commented: "The aim of course is to improve our standing. In preparation I have lost a bit of weight and now weigh in at 85kg, so it will be interesting to see how we go. More than anything, I am really looking forward to some good racing because the champion line up is fantastic this year. We even have James Peters here again. He is now a bit older and wiser, so I think we'll have a lot on our plate."
Team GBR 49er sailor James Peters (RS200), sailing this time with Maddy Anderson, narrowly missed winning the Endeavour Trophy from Craig in 2011 so is keen to complete some unfinished business. He said: "I haven't been back since then for one reason or another but it does feel a bit like unfinished business. It should be great fun and I am really looking forward to giving it my best shot."
At today's opening Investec-sponsored training session headed by Steve Irish – one of the UK's leading dinghy racing coaches – teams had a chance to pick up a few tips, acquaint themselves with their boats, and fine tune their brand-new suits of sails supplied courtesy of RS Sailing and Hyde Sails.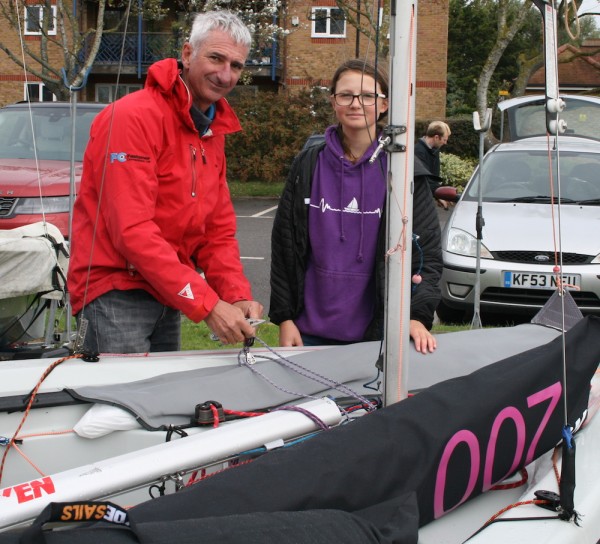 A mid morning briefing, and on-the-water session was followed by a video debrief back at the club this afternoon, and a summary of the day's training, was particularly helpful to first-timers to the event, and those unfamiliar with the RS200 class.
Alice Davis (RS Tera Pro) sailing her first Endeavour Trophy said gaining an entry to the Endeavour Trophy is a great opportunity: "I am most excited about sailing against the really good sailors here tomorrow. I think we shall learn a lot. The only thing is I haven't sailed an RS200 before so having Steve Irish here to help us rig and set up the boat today is invaluable."
Irish (pictured left, with Alice Davis), a former champion and Endeavour competitor, said the aim of the day was to get the fleet on the water to give them a chance to set up their boats for the conditions. "Although it was fairly windy today gusting up to 27kts, a total of 11 teams managed to get on the water for some useful practice.
"For many sailors here, this is the first time they've had a chance to look at an RS200 let alone sail one so, my aim is to ensure all the newcomers have their boats rigged correctly and have the correct tuning numbers for set up when they are on the water."
Adding a bit of advice to fellow competitors, Ben Harden competitor (Blaze), and Sales and Marketing Assistant at Allen Brothers said: "I learnt to sail on the River Crouch, so I'm extremely excited to be able to race on my home waters against the best in the country. The Crouch is known for being very tidal and there are certainly tidal gains to be had. I'd recommend looking over some charts closely to find where the shallows are and keep an eye out for back eddies and tide bends, especially at the mouth of the River Roach."
Looking ahead at the conditions for the start of the eight-race Endeavour Championship series, which kicks off at 1030 tomorrow, Edwin Buckley, event director and race officer commented: "Although we've had our fair share of wind today, the rest of the weekend is looking good. The wind tomorrow will be around 12-15kts generally from the south-south west and, because we are halfway between neap and spring tides, the conditions will be ideal for some really good sailing."
Commenting on event in general, Buckley concluded: "I am delighted that we have a great competitor list, it's going to be a very competitive weekend. I hope all the competitors are all looking forward to the 59th Endeavour Trophy as much as we are, it's shaping up to be fantastic. The Corinthian, the Endeavour Committee and the sponsors have been working so hard to make it a special event."
Confirmed 2019 Endeavour Trophy entries
2018 champions – Ben Saxton and Toby Lewis
2020 Olympian (470) – Luke Patience and Mary Henderson
29er – Oliver Evans and Will Jarman
420 – Eleanor Keers and Faye Chatterton
470 mixed – Jess Lavery and Alex Hughes
2000 – Jasper Barnham and Richard Thomas
Albacore – Oliver Davenport and Georgia Booth
B14 – Nick Craig and Emma Clarke
Blaze – Eden Hyland and Ben Harden
Cadet – Daisy Nunn and Harry Chatterton
Fireball – Ian Dobson and Matt Mee
GP14 – Sam Watson and Andy Thompson
Hadron H2 – Jack Holden and Sam Mottershead
K1 – Paul Smalley and Mari Shepherd
Lark – James Goss and Chris White
Laser – Sam and Ben Whaley
Laser Radial – Jon Emmett and Arran Holman
Merlin Rocket – Christian Birrell and Sam Brearey
Optimist – Henry Heathcote and Kuba Staite
RS Aero 5 – William Caiger and Catlin Morley
RS Aero 9 – Liam Willis and Will Taylor
RS Feva – Joey Taylor and Terry Hacker
RS Tera – Alice Davis and Dylan McPherson
RS200 – James Peters and Maddy Anderson
RS800 – Luke and Emma McEwen
Scorpion Peter Gray and Rachael Rhodes
Streaker – Martin Plenty and Sam Waller
Supernova – Cliff and Bec Milliner
Topper 4.2 – Sam Grayton and Raife Piggott
Topper 5.3 – Oliver Allen-Wilcox and Freddie Howarth