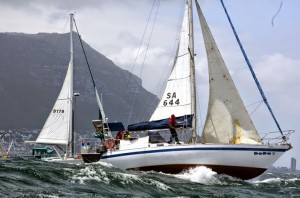 Lively conditions with winds reaching over 30kts made for an exciting start for the 2014/15 Governor's Cup. This 1700-nautical mile race from False Bay Yacht Club, Simon's Town, South Africa, to the remote Atlantic island of St Helena, got underway at 1400 local time today.
The strong 25kt south-easterly did nothing however, to deter the masses of spectators and well-wishers who ventured on the water, and those who headed to mountain viewpoints all the way to Cape Point to watch the 17-strong fleet battle against huge waves as it headed out to sea.
After sailing a mile across Simon Bay to Castor mark  – the first turning mark just off the lighthouse – the fleet set off on a southerly course towards Cape Point – the first significant way point, and one of the biggest challenges the competitors face in the early part of the race.
Justin Spreckley and his five-strong team from Royal Cape Yacht Club on Strumpet (Fast 42) sailed impressively in the strong breeze and led off the start line. Although they were unable to hold off Kevin Webb and his team aboard the super-fast trimaran Banjo (Farrier F9AX), they are looking likely to be an early top contender in the Racing Monohull fleet.
Team Banjo, that took line honours in Governor's Cup 2012/13, is currently leading the fleet as it heads towards Cape Point. According to John Leslie from the Governor's Cup race committee, it should take the fleet about two to three hours to round Cape Point, which means they should all be round by nightfall.
The issues the fleet will face in the next few hours is the residual 4-6m swell from a front that came through on Christmas Day. This will make it a fairly lively first night, but once they are round the Point, the wind will be from behind which means they will be able to settle into the race and concentrate on tactics.
Leslie, commenting on the start, said: "I was very impressed with the fleet as it set of this afternoon. Considering it's a 1700-mile race, and considering the seriously windy conditions everyone was on top form, and there was certainly no sign of anyone holding back. It will be rough as they head towards Cape Point, and I doubt there'll be too many spinnakers hoisted in the dark, but they, particularly those who've done the race before, all know what's ahead."
Depending on the weather and sea conditions, the race can take anything between seven and 15 days to complete. The 2012/13 edition of the race took place in generally light to moderate winds. Banjo, who took line honours, completed the race in 10 days.