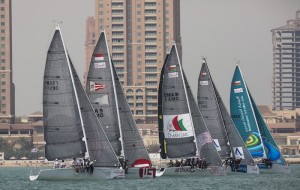 A thrilling day on the water in Doha for the final four inport races of the EFG Sailing Arabia – The Tour, resulted in three more race wins for Sidney Gavignet and team on EFG Bank (Monaco).
The EFG Sailing Arabia – The Tour is a demonstration of Oman Sail's passion for the sport and its commitment to help bring together the best sailing talent in the GCC to race against elite international sailors.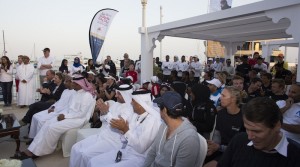 The inport racing today showed how Oman Sail's fleet of identical one-design Farr 30s encourages healthy competition. The racing was so close with the difference between winning and losing depending completely on the skill of the crew.
After the epic Leg 5, from Abu Dhabi to Doha, which saw teams battle against relentless strong headwinds for 30 plus hours, today's calm conditions in flat water, just off the Four Seasons Murjan Marina Doha base, was welcome relief for the 10 teams.
Sunshine and winds that reached no more than 10kts also proved ideal for Oman Sail to welcome special guests to event, including a group of local Optimist sailors who had a chance to meet the race teams. The day was made even more special with guests, team sponsors and local media, invited to join the teams and take part in the racing.
Gavignet, and team sailed an impressive series and managed to emerge from every race in a podium position. They won three of the four races and are now in a strong overall winning position going into today's start of the final leg. Commenting on his inport race success, Gavignet said: "The key today was making good manoeuvres and few mistake, which was where we scored well."
By winning race three, Zain Sailing Team (Kuwait) headed by seasoned Tour competitor Cédric Pouligny with Gérald Véniard on navigation were the only team to prevent Gavignet's total domination. Zain eventually finished fifth overall.
In second place overall with a consistent scoreline of three second places were the seasoned young student team from Plymouth on Team averda skippered by Marcel Herrera. Like Team EFG Bank (Monaco) they sailed smart and were always in contention.
Herrera commented: "Really enjoyable day and great racing plus we were able to take our sponsors – averda – out sailing as our special guests, which was fun too. It is always good to have such close racing, particularly with EFG Bank because they are always spot on."
Notable for their impressive performance at this event is Team Bienne Voile skippered Lorenz Müller from Switzerland. Today was no exception. They finished third overall with a top result a second. Müller commented: "We feel more comfortable with inshore races because that is what we are used to. We had a great day, good starts, and my son Emanuel was spot on with the tactics, so we are very happy."
Mary Rook and the all-girl team on Al Thuraya (Oman) were always in contention and made some good decisions in the shifty conditions. They always emerged in the top rank and finished the day in fourth place. Lauren Eatwell enthused: "We really enjoyed it today, it was Champagne sailing as far as we are concerned. We love this sort of racing because we have good team work, and in light winds we have a slight advantage because we have less weight on board."
Nick Moloney and his mostly Chinese team on GAC powered by Dongfeng Race Team, were also always in the frame and finished the day in sixth place. This short course racing is all about teamwork and communication so it was a great opportunity for the multi-national team to have the chance to work their skills.
Wouter Sonnema and his team on Delft Challenge couldn't quite match the impressive results they have achieved in the offshore racing so far during the Tour, and instead had to settle for seventh overall.
The all-Omani Team Renaissance skippered by Fahad Al Hasni started the day on top form with a first race third place but struggled to repeat this in the shifty conditions. They eventually finished eighth, just ahead of Mathijs Wagemans and Team IMCO (Oman) in ninth place and Ahmed Al Ma'mari and Team OMIFCO in 10th.
At the prizegiving ceremony immediately after the racing, David Graham, CEO of Oman Sail – the race organisers – shared his thoughts and also looked ahead to the final leg of this year's Tour. He said: "The vision of Oman Sail to develop the region's sailing talent and reignite the rich maritime heritage is becoming a reality, and as we go into the final leg tomorrow, it is clear that EFG Sailing Arabia – The Tour can reach out to the entire region, create new heroes and help people achieve dreams. We have an all–female crew racing alongside their male counterparts and mixed crews showing that sailing is a sport for all."
Today teams are preparing for the start of the final Leg 6 sprint to Bahrain. Given the forecast, however, with strong winds forecast, the race committee has decided to postpone the start until 1300. Once underway, the race will be all upwind, so crews are preparing for yet another challenging, uncomfortable ride. When the teams arrive in Bahrain however, they can look forward to a warm welcome at Manama Amwaj Marina.