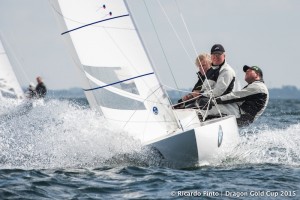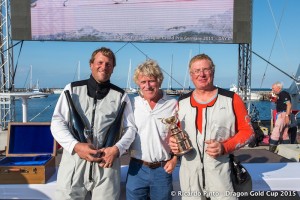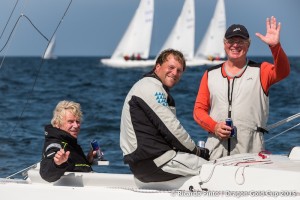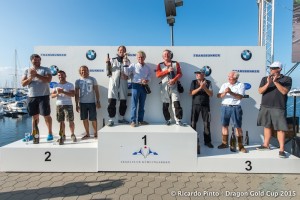 Petticrows Ltd – builder of world class one-design racing yachts – added another Dragon Gold Cup win to its already impressive haul of 13 previous wins, and also took the next three places overall.
Leading the field was Lawrie Smith sailing with Joost Houweling and Tim Tavinor, aboard the recent Petticrows-built Prince Alfie (GBR 801). Smith and team sailed a consistent series in the ultra competitive 66-strong Gold Cup fleet in Kuhlungsborn, Germany and won the non-discard regatta series by a clear 16pt margin. In second place was Dmitry Samokhin, crewed by Andrey Kirilyuk and Aleksey Bushuev on Strange Little Girl (S 76) also Petticrows built.
Sinewave (GER 1133), Thomas Mueller Vincent Hoesch and Marc Pickel, and also Bunker Prince (UAE 8) Yevgen Braslavetz, Sergey Timokhov and Alexandr Mirchuk, complete the top four Gold Cup, Petticrows top four clean sweep. In sixth place, Petticrows starred again with Jerboa (GBR 761) sailed by Gavia Wilkinson-Cox, Mark Hart and Kasper Harsberg.
With all races to count in the overall series, racing went right down to the wire. The eventual winners Team Prince Alfie entered the final race of the series with an 11pt advantage and after a final race sixth place, they extended their winning margin to 16 pts.
Commenting on winning the coveted Dragon Gold Cup, Lawrie Smith – British Olympic medallist and multiple Whitbread Round the World Race skipper – said: "I've never won this before so naturally pleased. It is one of the most historic yachting trophies around, and an honour to be presented with it. Bit of a responsibility to look after it, though, so I've handed it over to my crew for safe keeping!"
On racing the International Dragon class, Smith added: "I have always really enjoyed sailing the Dragon because it offers exceptional competition and is technical enough for me to enjoy playing around with the rig and settings. The Petticrows-built Dragon in particular performs really well in all conditions, and the build quality is exceptional. All in all the Petticrows Dragon is what it says on the box – World Class."
Tim Tavinor – crewman and Petticrows Managing Director – commenting on the Dragon Gold Cup success, concluded: "Petticrows is naturally delighted to have finally won the Gold Cup for the 14th time, and secured the top four places overall. We have a long list of achievements in the class including world championship and Edinburgh Cup wins, but winning the Gold Cup in such a highly competitive fleet, is always special. Just a week after the end of the regatta, we are overwhelmed with interest and are currently working through new order enquiries."