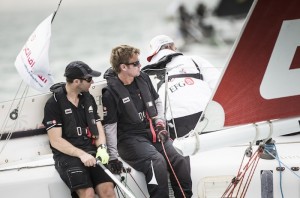 The fast 60nm sprint from Dubai to Abu Dhabi gave Sidney Gavignet and his EFG Bank Oman team a chance to demonstrate their professional tactical skills once again to secure their third leg win of the of the EFG Sailing Arabia – The Tour.
Gavignet and his super-tuned crew that includes Spanish sailor Alex Pella, Nicolas Lunven, and Ireland's Damian Foxall, had a poor start but it didn't take the seasoned team long to revert default and lead the 11-strong fleet round the windward mark.
Although they had a impressive one-and-half minutes lead at the mark, they were pushed all the way by the ever-threatening Zain Sailing Team (Kuwait) – headed by seasoned Tour competitor, and former team partner to Gavignet – Cédric Pouligny.
Mohammed Al Mujaini, one of the three Omani crew members commented: "Our start was really, really bad but we played the shifts well. Zain pushed us all the time but we kept all the focus on speed and we didn't think of anything else other that that. In fact it always makes us work harder when we have pressure from others."
Seasoned Tour competitor Cédric Pouligny and his Zain Sailing Team (Kuwait) includes Gérald Véniard on navigation and a crew formed mainly from employees of Zain – one of the Middle East's leading mobile telecoms operators. The crew for this leg also included Bader Al-Khafari – Deputy Chairman of Zain, and Head of the MAK Group in Kuwait.
Commenting on his first ever yacht race, Al-Khafari said: "it was interesting and challenging and the rough sea made it tough, but we made it, enjoyed it and got a top result. It was all down to teamwork. I enjoyed being part of it and actually help sail the boat, including a stint at the helm."
In third place after a race long struggle through the fleet following an OCS (over the line at the start) was Marcel Herrera and Team Averda (Oman).
Herrera commented: "Despite our OCS we actually had really good speed throughout the day. We worked hard and constantly gained, which was down to a top effort from the team."
Fahad Al Hasni and the all-Omani team on Renaissance sailed well once again and held third position for most of the leg but lack of boat speed in the closing stages saw them lose four places. Al Hasni commented: "We don't know what happened the boat just seemed to stop. We did everything we could but it is a mystery."
The consistent Delft Challenge team was always in the top half of the fleet and took fourth despite a startline incident that resulted in a bit of damage to the boat. "It's not too bad," commented Jochem Nonhebel, " We'll get it fixed for tomorrow."
Another team sailing well and posting consistent results is Lorenz Müller's amateur Bienne Voile team from Switzerland. Today they finished fifth, which leaves them in fifth place overall.
Nick Moloney and his mostly Chinese team on GAC powered by Dongfeng Race Team had a better day finishing sixth, just ahead of Renaissance.
In seventh place were Mary Rook and the all-girl team on Al Thuraya (Oman). It was a tough day for the girls, some of whom, suffered with seasickness in the rough sea. They are now lying eighth overall.
Mathijs Wagemans and the predominantly Omani crew on Team IMCO, and Ahmed Al Ma'mari and Team OMIFCO finished in ninth and tenth place respectively, just ahead of the Oman Royal Navy.
Leg 5 of the Tour started today at 0900. This leg from Abu Dhabi to Doha is one of the most challenging not least because it is another long one at 159nm. It will be a real stamina test with fatigue being the biggest issue. Crews will need to be constantly alert as they negotiate the oil field and shallows along the way. When they arrive in Doha in the early hours on 25 February however, they will be rewarded with fine hospitality at the Four Seasons Marina.
The EFG Sailing Arabia – The Tour provides an opportunity for the organisers, Oman Sail, to promote the Gulf region as alternative international race destination. The event, which is now in its fifth year, also signals a new era for sailing in the Middle East because it provides an exciting platform to develop young sailors and leave a lasting legacy.
Salma Al Hashmi, Director of Marketing and Events at Oman Sail, said, "Today we have seen exactly why EFG Sailing Arabia – The Tour is gaining momentum. The variety of challenges, the high level of sailing skill and the capability of talented young sailors from this region on board local boats, is connecting people around the region with a shared cultural maritime heritage. EFG Sailing Arabia – The Tour 2015 is signaling a new era for sailing in the Middle East. The focus is on nurturing talent and giving experiences to the next generation, while also teaching valuable life skills like teamwork, confidence and responsibility to work together and succeed. The race has captured imagination of competitors and the public who can see the possibilities that sailing can offer."