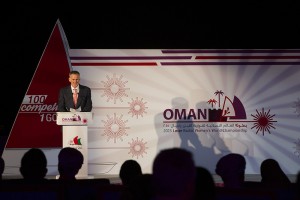 At this evening's grand Omani ceremony to mark the official opening of the Laser Radial Women's World Championship, competitors from around the globe were welcomed in spectacular style to the Millennium Resort, Mussanah, Oman. The event also marked the occasion of yesterday's 45th National Day of Oman.
Having hosted the successful RS:X World Championship just one month ago, Oman Sail – the event organisers – were able to showcase the Sultanate of Oman's impressive high profile regatta venue once again and offer competitors and guests a sample of the lavish and exotic cultural hospitality.
The evening's grand banquet and activities provided jollity among teams with henna art a big hit with the girls. Guests were also encouraged to wear Omani turbans for a photo shoot, and for some, the camel riding was too tempting to resist.
In the presence of His Excellency Dr. Abdullah bin Nasser Al Harrasi (Chairman of the Public Authority for Radio and Television), and Her Excellency Maitha Al Mahrouqi (Undersecretary of Ministry of Tourism and Chairwoman of Oman Sail), David Graham (CEO Oman Sail) welcomed the 100 athletes to the six-day championship.
Graham in his opening speech highlighted Oman Sail's commitment to promoting women through sailing: "Our Women's Programme has created new career opportunities for Omani women in sailing, either as coaches or instructors, or as part of the region's first all-female sailing team – regularly lining up alongside male teams and showing that sport can break down boundaries and provide equal footing on which to compete.
He continued: "Hosting this tournament offers our young sailors the opportunity to observe and learn from the very best, and we hope that this week adds some extra motivation to the fledgling careers of our young sailors. The opportunity to learn from 100 of the world's best female sailors here in Oman is a chance that shouldn't be missed.
"The legacy of our hosting the World Championships will be shown in the progress of Oman's own female sailors, as well as the growing reputation of Mussanah as a venue. Oman has the potential to become a recognised world-class host nation for international events."
As well as the prominence as a world championship, the event is also an Olympic qualifier for Rio in 2016 with four countries hoping to secure a place at the Olympics. Other countries will use this regatta to select their individual Olympic sailors.
Earlier today competitors meet face to face for the first time at this event, in the practice race. The conditions, which were fairly typical with winds up to 12kts, were enough to establish that the competition is likely to be exceptionally intense this week.
Among those lining up as favourites, are Gintare Volungeviciute-Scheidt (LTU), who won the Test event in Rio in August, Evi Van Acker (BEL) who is ranked world number one, and Marit Bouwmeester (NED) – silver medallist at London 2012 and ranked fourth in the world.
Interest will also be focused on Paige Railey, the high profile American Olympic sailor who has spent over a year recovering from a serious cycling accident. Although it is still early days, Railey seems to be back on form again having won the Pan American Games in Toronto in August. Another potential top runner is Lijia Xu (CHN) – reigning Olympic champion – who is back on the race scene after her two-year break.
An idea of form however, will become more clear after the first two races of the Qualifying Series tomorrow (Friday). The 100-strong fleet is split into Yellow and Blue group, which means a total of four races are scheduled with the start of the first race 1100 local time (CET +3).