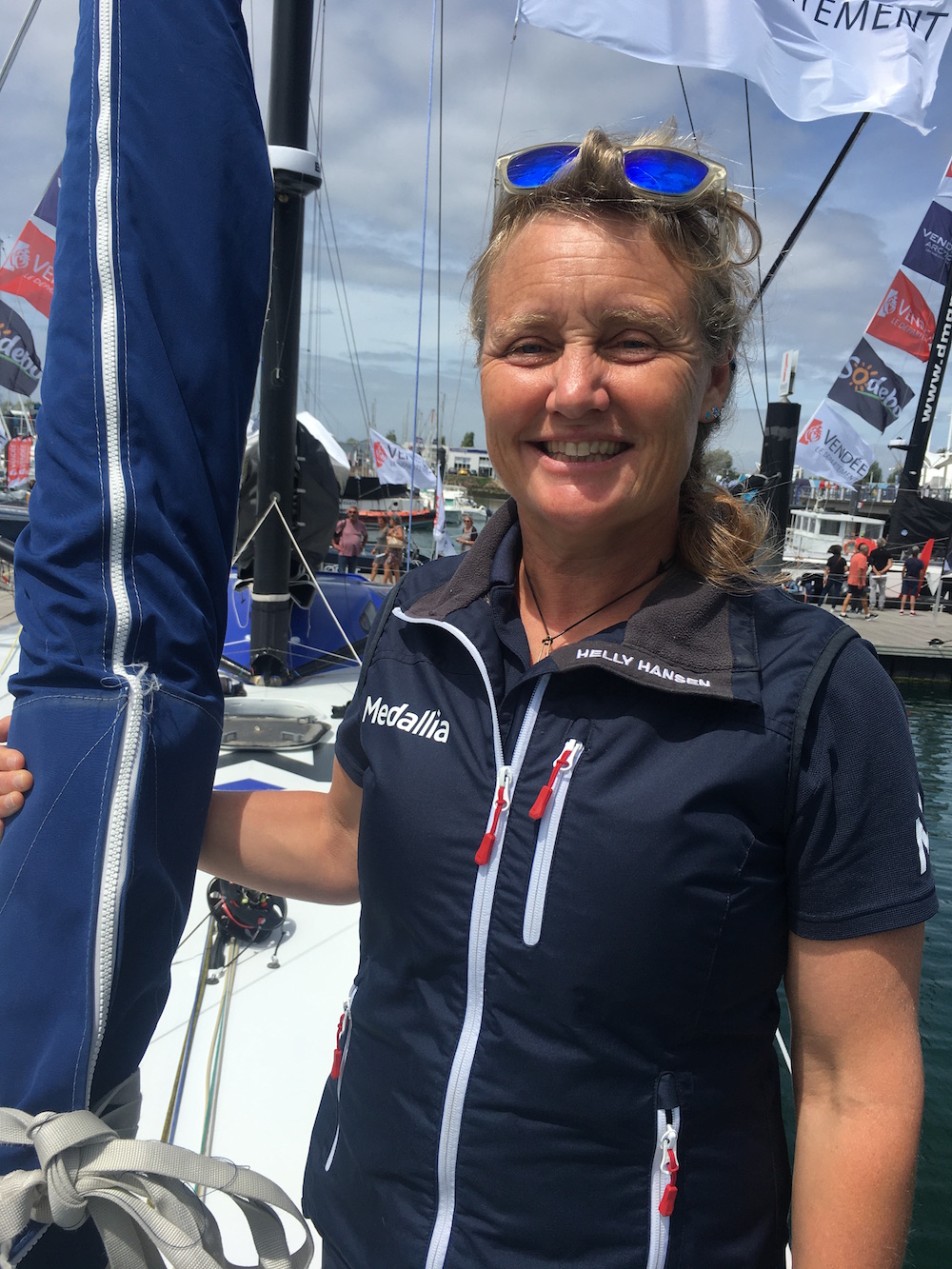 Pip Hare (48) is the sole British sailor competing in the Vendée Arctique, which started from Les Sables d'Olonne on Sunday 12 June, 2022.
Hare who finished 19th in the 2020/21 Vendée Globe (and 8th woman to ever finish the race) in a 1999-built IMOCA 60, is now sailing Medallia, a third generation foiling IMOCA (ex-Banque Populaire VIII, Bureau Vallée II) in this, the first of five qualifying races for the next Vendée Globe 2024/25.
This Vendée Globe qualifier around Iceland and into the Arctic Circle is the second edition of the 3,500 nautical miles, solo sprint, and should take the 25-strong fleet around 12 days complete. The idea of the race to the North is to give the IMOCA Class skippers a chance to test their boats in conditions similar to those expected on the Vendée Globe.
For Hare this is the race that really kick starts her 2024 Vendée Globe campaign. Chatting aboard Medallia just before she left dock, it was clear how important the race is particularly in terms of qualification with just 40 places available for 2024 Vendée Globe: Hare commented: "If there are more boats that qualify than there are places, it will go down to accumulative mileage, so basically it is important to start racing now and finish every race until the start of the Vendée if you want a place.
"Of those 40 places available, 13 of them go to new builds and there is one wild card. I don't want to bank on a wild card, so effectively there are 26 places available. Theoretically to qualify for a place you have to do a qualification race, one in 2022 or 2023 and 2024 but if more than 26 boats complete those qualification races, and the chances are they will because there are currently over 50 teams interested."
Thanks to Medallia and her other sponsors, which includes Helly Hansen, Hare's support team gives her the chance to really make the most of the time available on what is now the countdown to the start of the 2024 Vendée Globe.
Hare added: "It's fantastic to have a strong team behind me this time, which means I can really concentrate on my preparations for the race. When I am based here in Les Sables d'Olonne for example, I have to make the most of the precious time I have with the fleet because once this race is over, I have to head straight back to my base in Poole."
Commenting on her newer generation boat, and how she found the transition to foiling, Hare said: "It was something we needed to work on so we did a lot of intensive training in Portugal. Thankfully I feel like I understand it all now, so it's just everything else I have to work on!"
With the countdown to the 2024 Vendée Globe now on, Hare said race training is key at this stage. Although her ultimate aim is to better her 19th position in the 20/21 edition, it is not something she is obsessing about: "I don't have a particular target in terms of the race. I want a competitive finish but right now I don't think it is possible to say what that looks like. My boat has small foils, so theoretically (if we all sailed equally) my position would be 16th. I would like to out-perform the boat for sure, and to have sailed a good, competitive race."
For this race, and others this year Hare says she wants to view them as training progression opportunities. "It is an opportunity to benchmark my relative performance against other skippers. I am not going to be obsessed with my position in this race because I am so early on in my journey. I just want to ensure I am progressing each time."
The Vendée Arctique course as far north as the Arctic Circle and down the Atlantic will really put the IMOCA skippers through their paces with an opportunity to test out gear and systems in conditions similar to those expected on the Vendée Globe. One of the biggest threats for race control to monitor is icebergs/pack ice drifting from Greenland and Svalbard.
With harsh conditions expected Hare said she's pleased to have Helly Hansen as her clothing partner. "Having the right kit for the conditions is imperative and thankfully Helly offers kit that seriously works.
"Quite often throughout my career I have ended up wearing men's kit because although the women's range in other brands may fit well, I have found them not so technical. Helly's designers take us [women] seriously as professional athletes and they deliver technical kit that really works for women."
Chatting about the gear she's taking on this race, Hare says that given the conditions expected over the next 12 days or so, it is a very similar choice to her Vendée Globe wardrobe. "One of the massive challenges for this sort of racing, and particularly in this boat, is being able to move around freely, and being able to wiggle though tiny holes in the bulkhead. Wearing anything too bulky therefore is a real no, no. The kit also needs to be exceptionally hard wearing particularly in the knee and seat areas.
"Thermo regulating is also a factor but thankfully Helly understand my needs. For example, going through the transition from sleeping on a bean bag where I get cold, quite quickly one minute, to being up on deck doing a gybe or hoisting a sail absolutely full on with a heart rate of about 160 the next minute, not only do I need kit that deals with temperature changes, but also I need kit that allow me to move around freely.
"Helly Hansen Ægir collection Jacket and Bib chest highs offer exceptional protection and are highly durable. Also, my Helly Hansen Drysuit is invaluable because I spend a lot of time on deck getting wet. It's my favorite bit of kit and I would never go on an offshore race without it.
"Although I do wear boots sometimes, in warmer climates I mostly wear Helly Women's Skagen F-1 Offshore Sailing Shoes with my drysuit because I find them super-lightweight, which makes me feel more springy, and they dry quickly.
"Finally, I'll also be taking my HP Racing Sailing Leggings, which I love, and a prototype W HP Hybryd Insulator 2.0 jacket. This I will be testing, and reporting back on for launch in Spring 2023. Watch this space!"
The images below show the basics of living conditions down below.