Caribbean 2017 season opener attracts record breakers for island rum dash
With just 10 days to go before the start of the 2017 Mount Gay Round Barbados Race Series (16-24 January), the festival atmosphere in Barbados is starting to rumble writes Sue Pelling.
Overseas entries, including Tony Lawson's record-breaking MOD70 – MS Barbados Concise 10, skippered by Ned Collier Wakefield is already in Bridgetown preparing to defend the Absolute Multihull record the team broke last year in the event's 80th anniversary year. They wowed the crowds in a thrilling finish that saw them complete the 60nm course just 12 seconds ahead of Phaedo3, co skippered by Lloyd Thornburg and Brian Thompson, with a time of 2 hours, 37 minutes, 38 seconds. In doing so they won an impressive 54 bottles (nine cases) of Extra Old Mount Gay Rum.
Given the fact there is a total 14 established records up for grabs, all of which offer the skipper's weight in Mount Gay Extra Old Rum, if broken, this event is not only the ultimate choice for speed sailors seeking a spot of early season training for the forthcoming Caribbean season, but also is an ideal post-Christmas choice for sun seekers keen to escape the European winter climate.
Organisers – Barbados Cruising Club in association with Barbados Tourism Marketing Inc and Mount Gay – are currently in the process of welcoming a stream of visitors to Bridgetown's new marina facilities including the Austrian team on X41 Godspeed who arrived today.
Peter Gilkes – Consultant to the Barbados Tourism Marketing Inc for Yachting Development – who has been involved in the organisation of the event for many years, believes the Mount Gay Round Barbados Regatta has many attractive qualities. Commenting on the 2017 event, Gilkes said: "Following last year's most successful event to date where some impressive times were achieved during our signature round Barbados race, I am looking forward to welcoming even more entries this year.
"I believe we have a unique event here on the island of Barbados and, after many years of hard work in promoting the regatta globally, it is now a recognised Caribbean circuit favourite. The record breaking sprint around the island and the chance of winning your skipper's weight in rum is, I believe, a really attractive incentive. Also, with the additional marina facilities this year, including online clearance through Sail Clear, plus washing facilities and Wi-Fi, we hope this event becomes even more established, particularly as a record-breaking location for high performance racers."
Other interesting entries lined up to have a crack at record-breaking times in the sprint round the island this year include the custom 63ft Irens/Cabaret-designed high-performance multihull Paradox. Ocean Phoenix, the Custom Humphries 78, Maximizer, Farr 72, and Spirit of Juno, Farr 65 are also likely to produce some stiff competition. One of the most interesting entries to watch this year, in the hands of her new owner Roman Guerra, is Monster Project. This is the former Volvo Ocean Racer V070 that still holds the Absolute Monohull Mount Gay Round Barbados record.
In an effort to maintain the event's tradition, which saw the first race in 1936 based upon bragging rights for the fastest Trading Schooner round Barbados, there's a strong classic revival this year. Among those taking part is Adix, the Arthur Holgate 65m. Also in the line-up are Tres Hombres, the 33m working Brigantine, and the locally built 30.5m Schooner Ruth. Event regular Matt Barker will be gracing the waters off Bridgetown once again aboard his pretty Alfred Mylne 65 The Blue Peter.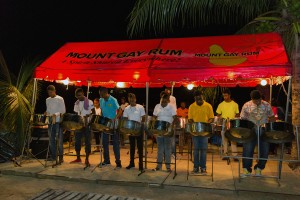 During the run-up to the Mount Gay Round Barbados Race, competitors will enjoy a mix of serious and fun racing in the three-day Coastal Series, in the constant 12-18 knot east to east-north-east trade winds that Bridgetown is known for. Those heading north, post event can enjoy a final 265nm Ocean Passage Race to Antigua to link up with the Superyacht Challenge.
As headline sponsor, Mount Gay is the theme behind most daily parties and social events including the legendary Red Cap party, a tour/tasting session at the Mount Gay Distillery, and an exhibition polo match at Holders Polo Field, at Holetown, St James on lay day. New to the social schedule this year is a party Copacabana Beach Bar located just a few minutes stroll along the beach.