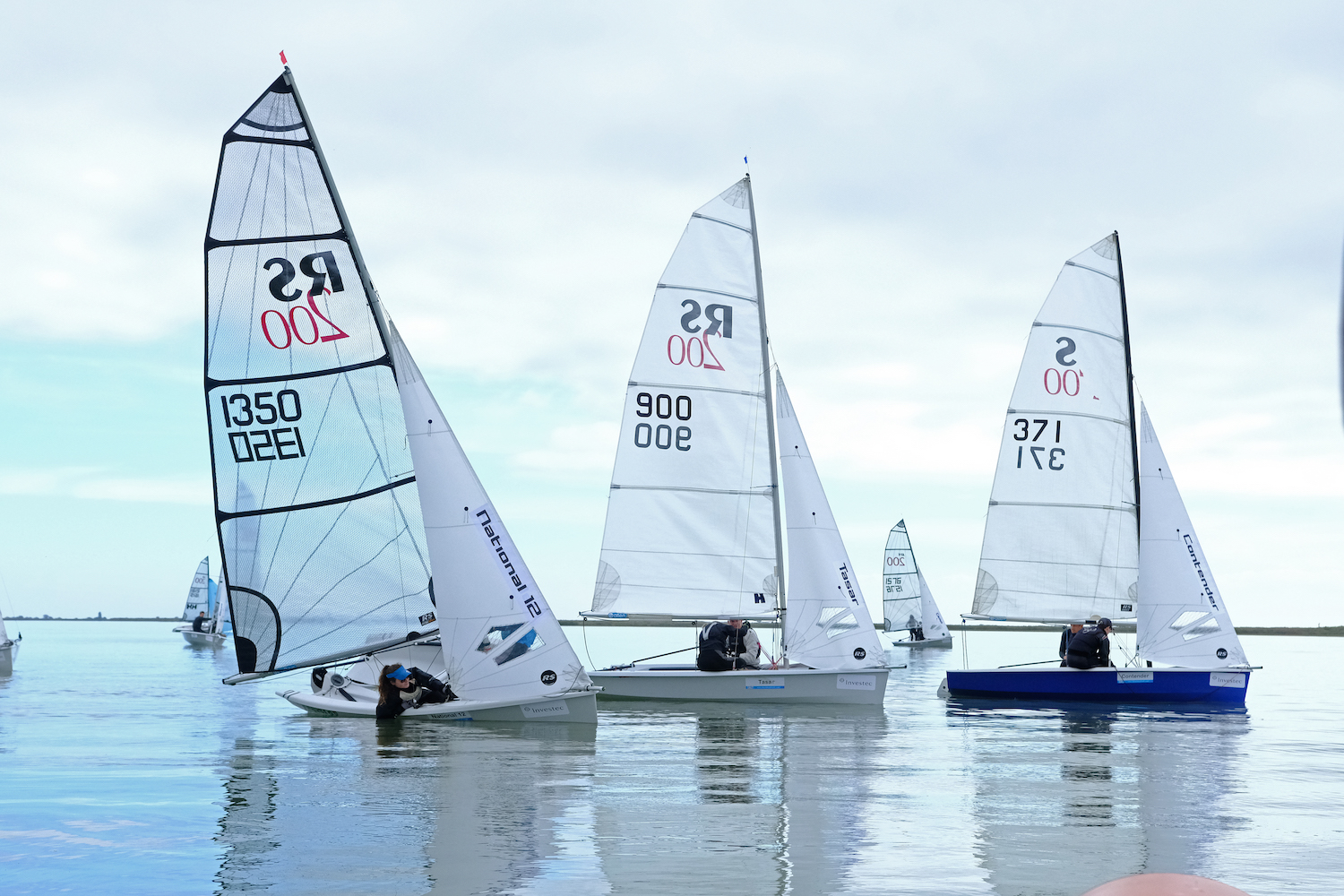 The countdown to the 60th anniversary Endeavour Trophy is underway with the first race kicking off at 10.00 today (9 October 2021).
As this annual invitational eight-race series (8-10 October) reaches another significant milestone, the battle to become the dinghy champion of champions continues to intensify.
The entry at this unique, high profile event at the Royal Corinthian YC, Burnham-on-Crouch, has always been exceptionally strong and this year's Investec-sponsored series, in one-design RS200s, is no exception. A total of 31 champions from the most popular dinghy racing classes, including a host of previous Endeavour winners, will be joined for this special anniversary event by some highly decorated Olympians.
Although five-time Endeavour winning helmsman Ben Saxton is not competing this year, one team to watch out for this weekend is Aaron Holman (RS200 national champion) with Saxton's super-crew Toby Lewis at the front end. If anyone knows how to sail an RS200 fast at this event it is, without doubt, Lewis.
Up against them however, are a couple of Olympian team mates going head to head this time – Stuart Bithell fresh from a Gold medal win in Tokyo (49er crew), and Luke Patience Olympic silver medallist with Bithell as crew at Weymouth (470). Both teams also have plenty of Endeavour experience with Bithell an Endeavour Champion helmsman in 2010, and Patience who was 'pipped at the post' in the final race by Saxton at 2019 Endeavour Trophy. For Patience and Mary Henderson, this weekend's racing will be about settling some unfinished business.
Another serial Endeavour Trophy winner with five Endeavour wins to his name is Nick Craig (RS400). Craig hopes to put his former Endeavour winning-skills into practice once again, this time with Katie Burridge calling the shots at the front. Chatting about his prospects of making it his sixth Endeavour win, Craig said: "As much as I would like to think positively about another Endeavour win, I think that given the weather forecast, I'd be hard pushed. For a start I would need to lose 15kg by tomorrow. Whatever happens it will be good fun, it is always great sailing and a fantastic event, so I am really looking forward to getting out there tomorrow."
Matt Burge (Osprey) who won the Endeavour Trophy in 2014 with Toby Lewis, and was runner up twice, is another favourite with Tom Pygall crewing for him this year.
It is also good to see so many young sailors taking part including Isobel Stewart (16) crewing for her father Tom (N12), and Millie Irish (17) with Joe Warwicker (16) crewing (RS Feva).
Florence Brellisford (18) and Ben Hutton Penman (18) – home club representatives and former Corinthian Otters (RCYC's junior section) – are not only flying the flag for the 29er class, but also for the RCYC Otter fleet. In support the club's new incentive to inspire the next generation of sailors, members of the Otters will be out and about watching the masters at work on the racecourse throughout the weekend.
Meanwhile, in preparation for the tough challenge ahead – eight back-to-back races over two days on the tidal waters of the River Crouch – competitors took part in today's opening Investec-sponsored training session.
Headed by Steve Irish – one of the UK's leading dinghy racing coaches – teams had a chance to not only listen to some well-seasoned advice but also acquaint themselves with their boats, and fine tune their rigs (brand-new jibs and spinnakers supplied courtesy of RS Sailing and Hyde Sails).
It was also a delight that Keith Musto, Olympic silver medallist and winner of the first ever Endeavour Trophy crewing for Peter Bateman in 1961, was present at today's morning briefing. Musto is always so interested in the progress of sailing and will undoubtedly be out on the water, spectating aboard his own racing yacht, at some point over the weekend.
As well as Irish's rigging/tuning in the morning, competitors, particularly Endeavour first-timers, embraced the on-the water session and video de-brief back on shore. Although the wind failed to cooperate much today it was a chance to set up and put the boats through their paces ready for what looks to be a generally challenging light wind, strong Spring tide weekend.
Irish, a former champion and Endeavour competitor, commenting on the what he aims to achieve, said: "My job really is to help the newbies to the RS200 class set up their boats and offer advice on how to sail them. It is going to be light winds all weekend with big Spring tides so racing will be interesting. We might find some of the junior sailors are able to hold their own against some of the older 'boys'."
Chatting to Millie Irish (17) an Endeavour first timer who won the RS Feva nationals, and who happens to be Steve Irish's daughter, it appears that having a father as coach is no real advantage: "The coaching session today was great. A real treat in fact because as odd as it sounds, I never get any coaching from dad because he is always coaching others."
Commenting on her first time at the Endeavour, Irish added: "I am so excited to race against really, really great people. It is such a wonderful opportunity to be sailing at the top of the sport. There are certainly not many sports you can sail against Olympians. Can't wait. We weigh about 110kg so the light winds expected are definitely on our side."
Millie Irish's crew Joe Warwicker (16) is reveling in the fact that even though he finished second at the Feva nationals he still made it to the Endeavour. "We [Millie and Joe] were racing each other at the nationals and it was quite a tight finish. We, two helms, now find ourselves in the boat together. We are very aware it's a great opportunity to race against gold medallists and other very good sailors, so we hope to learn a lot this weekend."
Edwin Buckley, event director and race officer commented: "I am absolutely delighted that we have finally been able to host the 60th anniversary event. The restrictions imposed last year, to help manage the spread of the Covid-19 virus, brutally affected championships, which meant there were no champions.
Not surprisingly, this year we have been overwhelmed with entries and, the fact we have Olympians on the race course makes the event even more special."
Commenting on the conditions the competitors may face, Buckley concluded: "It is definitely going to be a tricky one this year particularly with the exceptionally high Spring tides and generally light winds. As it stands at the moment, tomorrow the tide is likely to be more powerful than wind so some will struggle. However, Sunday is looking more promising with 7-11kts of wind forecast, but given the strength of the tide, still very challenging."
Endeavour Entrants 2021
•

Cherub – Andrew and Jill Peters

•

Tasar – Rick and Sarah Perkins

•

Graduate – Isaac Marsh and Fresh Abendstern

•

2000 – Rob and Sarah Burridge

•

RS400 – Nick Craig and Katie Burridge

•

National 12 – Tom and Isobel Stewart

•

Olympian – Stuart Bithell and Jessica Hammett

•

Contender – Sam Barker and Samuel Mottershead

•

Thames A Rater – Ben Palmer and Amy Seabright

•

Olympian 470 – Luke Patience and Mary Henderson

•

Optimist – Patrick Bromilow and Tabitha Davies

•

RS Aero 9 – Ben Rolfe and Clara Jones

•

ILCA4 – Max Steele and Flynn Davies

•

Solo – Andy Davis and Pippa Kilsby

•

Blaze – Ben Harden and Eden Hyland

•

Cadet – Hannah Carruthers and Alan Krailing

•

Europe – Steve and Sarah Cockerill

•

RS800 – Tom Morris and Guy Fillmore

•

GP14 – Mike and Liz Senior

•

29er – Florence Brellisford and Ben Hutton Penman

•

Comet – Eddie Pope and Chris Hatton

•

RS Aero 5 – Andrew Frost and Hamish Walker

•

Musto Skiff – Sam and Megan Pascoe

•

RS200 – Arran Holman and Toby Lewis

•

Lark – Harry Pynn and Stephen Videlo

•

RS600 – George Smith and Elliot Marks

•

Osprey – Matthew Burge and Tom Pygall

•

Merlin Rocket – Christian Birrell and Matt Mee

•

420 – Ella Lance and Will Martin

•

RS Feva – Millie Irish and Joe Warwicker

•

Supernova – Alistair Goodwin and Cliff Milliner
Image Credits
1. Ultra light winds for today's training session – photo Roger Mant
2. Competitors line up for boat scrutinisation – photo Roger Mant
3. A day of coaching with Steve Irish (left) ensures all boats are tuned for optimum performance – photo Roger Mant
4. Tuning for light wind speed – photo Roger Mant
5. Champions prepare to launch for on-the-water training this afternoon – photo Roger Mant